We always love doing events in Brum as it means we can have a bit of a lie in! Also, it seems that Birmingham folk have an insatiable appetite for vintage, which we are more than happy to cater for! So we were back at the
Custard Factory
on Saturday 12th June with a fantastic selection of summer delights - cute sun dresses, hawaiian shirts, denim hotpants and kitsch trinkets were the order of the day. It was the day of England's first match, so James Mouse showed his support in a 1982 England shirt, which attracted many compliments from vintage loving fellas.
We were next to the lovely Jill and Jim from
Alfie Robot Retro
, who sell amazing vintage homewares, as well as handmade coasters and placemats which feature images from 70's cookbooks (I have two on my coffee table, they rule!).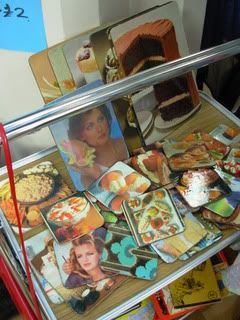 As usual, we scoffed our fill of cupcakes and had a good old rummage around the stalls. We met some lovely folk too, including a lady who was visiting from Northern Ireland and bought a one off reworked vintage necklace from us, and some regular customers who had popped along for a spot of shopping. All in all, a great day out!